ABOUT THE CRA - OUR POSITION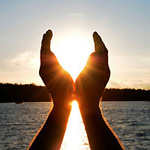 First and foremost, we believe in equality. In becoming members of the Canadian Reiki Association, our practitioners and teachers express their support for the idea that all styles of Reiki are equally valid and that no one style of Reiki is better or more authentic than another.
While CRA members support holistic healing, we understand that Reiki is not superior to allopathic or other complementary intervention, but rather is an additional method of addressing the issue. We believe in the therapeutic effectiveness of Reiki, both as a free-standing therapy and/or in conjunction with other modalities.